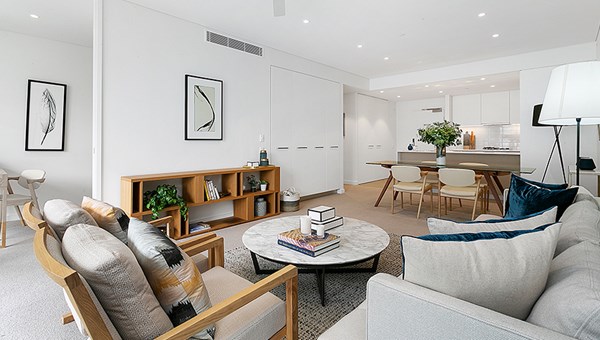 A Smart step into Aged care and independent living by Stockland and Harvey Norman Commercial - Smart Home Automation
Thanks to Harvey Norman Commercial's innovative smart home products and our design and installation services, residents are able to use voice commands to open their blinds, turn on their lights and start their kettle, along with ability monitoring and reporting opening/closing doors and movement in Stockland's revolutionary new Sydney-based 'smart' retirement village apartment.
Property developer Stockland is targeting tech-savvy seniors at its Cardinal Freeman, The Residences project at Ashfield in Sydney's inner west.
HNCD and Stockland again teamed up to produce this smart home which offers residents a fully voice activated space and has been designed to help them live independently for much longer.
Residents have the option to play music, operate lights, blinds, appliances and much more, all with simple voice commands via a Google Hub and Environexus Nero Automation platform.
For instance, a command such as 'I'm home" has the potential to start a sequence of events, such as opening the blinds, turning on entry and kitchen lights and playing a news update – all before even putting your keys down.
To allow for additional safety and support functions the system has options for reporting pop up notifications to the resident's children. This is achieved by fitting the smart home out with sensors and programming them with logic for example the sensors can be used to monitor medication cabinets and can send notifications to remind residents to access it.