Young Architects:
You Can't Ask That! + local book launch event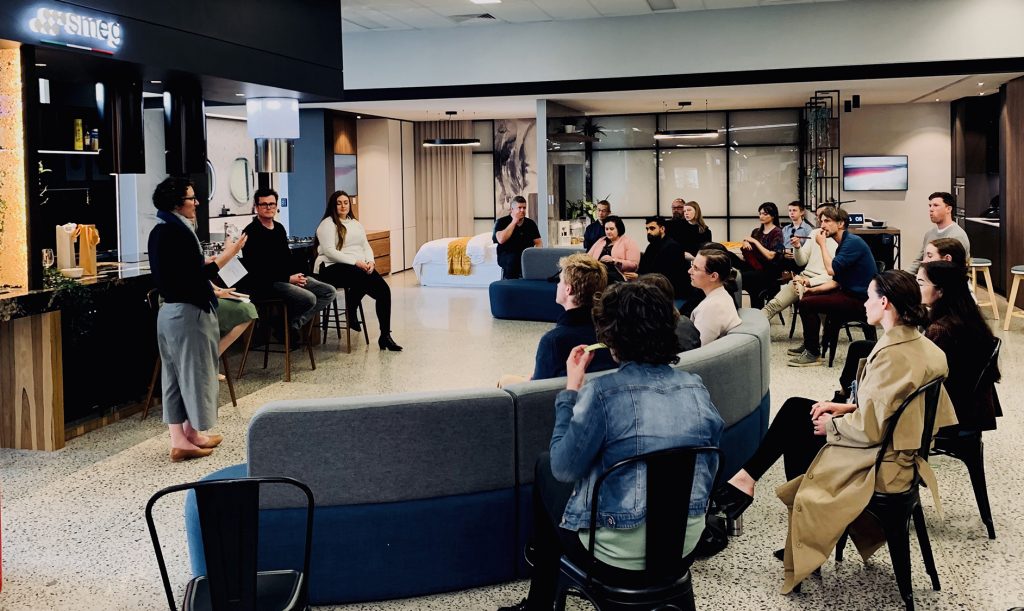 HNC Showroom – Mitchell, ACT
The Australian Institute of Architects, ACT Chapter regularly holds a series of talks and events for members as a part of its continuing professional development program. Speakers include local and visiting national and international architects. This month our ACT team were delighted to host one of their talks/function for 40 local architects and designers.

Guests were invited to join emerging Architect Sarah Lebner for her book launch "101 Things I Didn't Learn In Architecture School; And wish I'd known before my first job". Harvey Norman Commercial along with the Australian Institute of Architects, and Caroma invited local designers and architects to join Sarah for a 'You Can't Ask That' styled event.
Sarah was joined by local architect, Ben Walker from Ben Walker Architects, and local graduate, Vyasa McPherson from Patrick Roberts Architects, to answer a stream of anonymously submitted questions from students and graduates of architecture.

Shannon Battisson from The Mill Architecture + Design along with the president of AIA spoke about Harvey Norman Commercial's contribution to the Architecture/Design industry and thanked Caroma and HNC for their sponsorship.
Sarah Lebner from Lighthouse Architecture + Science spoke briefly about her new book and the impact it's had on students obtaining a realistic insight into the industry. The event then transformed into a version of "You Can't Ask That" where architects and students asked questions about the industry and how to implement what they've learnt in university and use their experience to succeed in this career. All attendees had a fantastic informative and entertaining evening.