Taste in coffee is personal – so should be your coffee experience!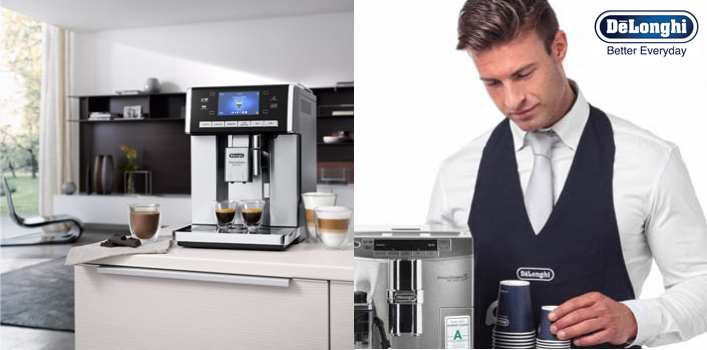 Perfect just like a coffee from a café
There's nothing quite like that morning coffee to help get your day started. Now, you can skip the cafe queues and bring barista-quality coffee to your home. You can use your preferred milk type, be it skim, soy, regular or none at all. Most importantly De'Longhi coffee machines deliver perfect coffee at the press of a button, ensuring the quality you would associate with a café but in your own home.
The pleasure of sharing
Amaze your guests with their favourite coffee, served straight away – just like in a café. A good coffee is a moment to be shared with family and friends. De'Longhi makes your home even more welcoming, creating a warm, relaxed atmosphere.
Italian Style
Much more than a coffee. A way of life. An inborn passion for quality. De'Longhi are Italian, so when it comes to producing coffee-making machines, they have the know-how that makes them stand out at world level. A cultural legacy that they carry with them and that is an integral part of De'Longhi products. De'Longhi is a company that looks to the future but does not forget its values, because tradition is just as important as innovation.
RECIPE: "COOL PASSION"
Try this easy to make delicious coffee drink, enjoyed sip by sip. Fresh, fruity and creamy…
Ingredients
Double espresso
1 to 1 sugar-water ratio (bring to a boil and then let cool)
Hazelnut cracknel
2 cl of fresh maracuja juice or syrup
50 ml of cold cream
Crushed ice
2 teaspoons of honey
Method
Start by dipping the rim of the glass into the sugar water and then into the hazelnuts
Place the espresso, maracuja juice and crushed ice together in a shaker
Leave to stand briefly and then pour the contents into the glass
Place honey, cream and crushed ice in a separate shake
Shake briefly and then pour slowly into the glass
De'Longhi's range of coffee machines offer the perfect choice to fit every lifestyle.