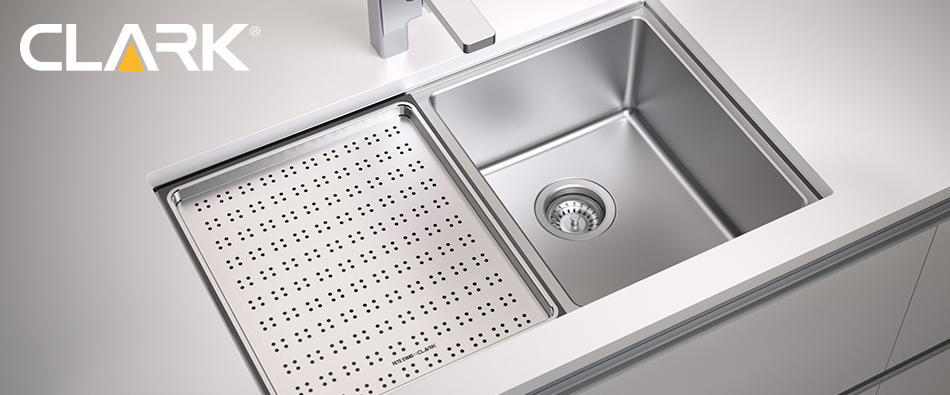 Today's not-so-basic kitchen sinks are available in many different styles, shapes and sizes. Here is a breakdown of what you need to know about the kitchen sink to help you decide on the design that best suits your lifestyle and your kitchen space.
Stainless steel is a durable material with hygienic properties, making it ideal for a kitchen sink. Being resistant to heat, stainless steel can withstand boiling water and direct contact with hot pans and pots straight from the oven or cooktop. It is 100% recyclable and will not discolour when exposed to direct sunlight, and it requires little to no maintenance depending on the finish of the product. If you are looking for the perfect piece to complete an alfresco kitchen or maybe a coastal home, opt for 316 marine grade stainless steel to avoid rust and corrosion from the elements.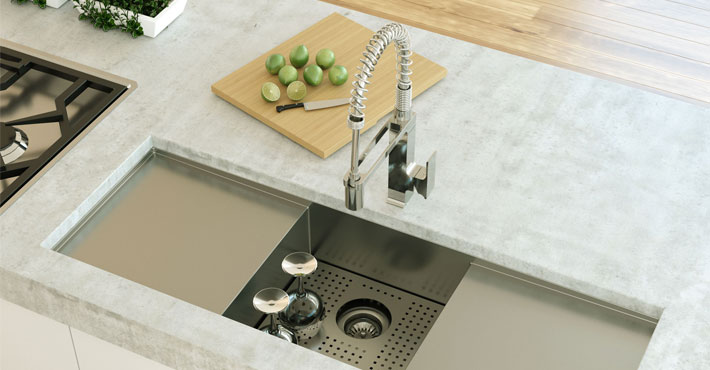 The undermount sink, just as the name states, is mounted underneath the benchtop. Undermount sinks require adequate structure and support for installation purposes; therefore, it is extremely important that you consider suitability of the material used for your benchtop prior to selecting a kitchen sink. Easy to clean, this style of sink will not affect the beauty of your benchtop as the feature piece in the kitchen, as it uses minimal surface area and creates a smooth, streamlined look. Undermount sinks come in a range of styles and finishes. Note: Most undermount sinks do not have a tap landing, therefore, the tapware will need to be wall mounted or installed through the benchtop.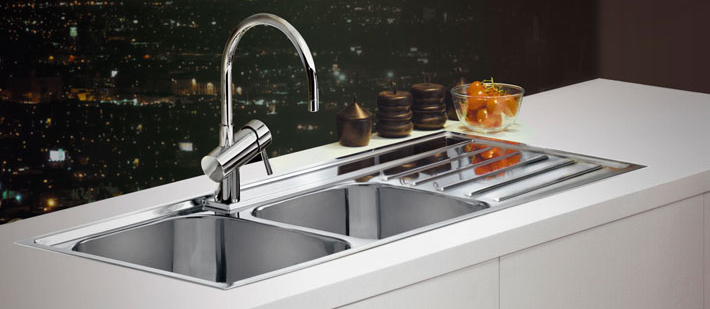 The overmount sink is a traditional drop-in style sink with a lip that sits over the benchtop. It offers the widest range of bowl configurations and drainer tray options. Note: Drop-in sinks are the most versatile design when it comes to installing tapware. The majority come with a tap landing with various tap-hole options, although, if preferred, the kitchen tapware can still be wall mounted or installed directly into the benchtop itself.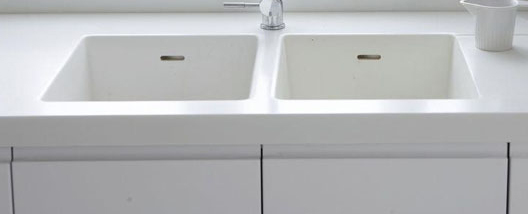 An integrated sink is a custom sink that is generally created from the same piece of material as the benchtop, giving a smooth, streamlined look. Depending on the material used, this type of sink works well in kitchens that require a clean and seamless design flow or something a little edgy and different from the norm. Available in various materials and textures, the integrated sink works well in kitchens with an organic, minimalist or urban look and feel. Note: Tapware for integrated sinks needs to be wall mounted or installed directly into the benchtop.
There are numerous bowl and drainer configurations to choose from when selecting your kitchen sink, and your choice will ultimately affect the function of your kitchen. When selecting the size of sink, think about:
How many people are living in your household?

Do you eat out more so than preparing and cooking your own meals?

Do you have a dishwasher, and how often do you use it?

Is there limited bench space in your kitchen?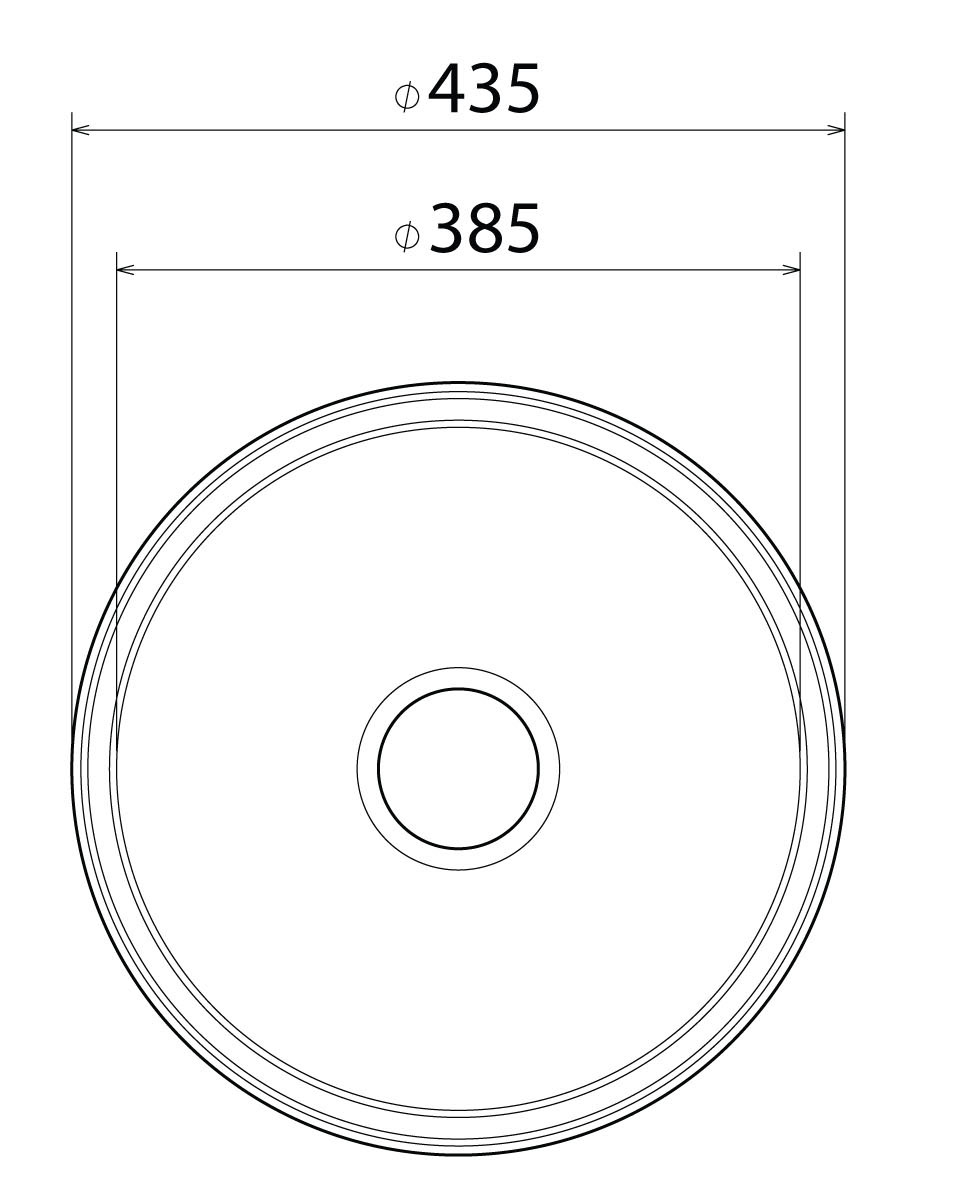 The more people living in your house, the bigger kitchen sink you will need. A double bowl, 1.75 or 1.5 bowls will easily satisfy the requirements of families and people who entertain and cook several times a week. If you select a sink that does not include a draining tray, opt for a removable one that can be hidden away when not in use. People with smaller kitchens with limited bench space, or those who are more likely to use the dishwasher rather than the kitchen sink, should lean towards single bowl options. This will allow more bench space for food prepping and benchtop appliances.
Accessorising the kitchen sink is becoming increasingly popular in kitchen design. Not only does it look great to have perfectly fitted accessories, they also provide added benefits to the functionality of the sink itself. Bowl savers, colanders, draining trays, basket wastes and chopping boards are amongst the most popular kitchen sink accessories used today. So when it comes down to choosing the right sink to suit your needs, also take into account the included accessories and how they can benefit you.