Friday 28th August 2020
To mark the first year anniversary of our Membership of Supply Nation we celebrated part of our reconciliation program by holding an Indigenous flag raising ceremony. The Ceremony was held at our Taren Point showroom and was hosted by Ninett Ebsworth our Diversity and Inclusion Manager. The ceremony was accompanied by a 'Welcome to Country' and 'Smoking Ceremony' performed by the Indigenous Elders Deanna Schreiber, Max
Harrison and Dean Kelly from the Kurranulla centre.
Harvey Norman Commercial Proprietor Alan Stephenson and Warehouse Supervisor Ray Hunt along with Elder Deanna Schreiber united to raise all the flags together, Australian, Aboriginal and Torres Strait Islander flags. This was observed by senior staff and our partnership customers Clontarf Foundation, Supply Nation, IDIC, Every Trade and PSG. The ceremony was followed by morning tea and included traditional indigenous and Australian food.
Mayor of the Sutherland Shire Mr Carmelo Pesce thanked Harvey Norman Commercial for engaging the Indigenous community and on our Reconciliation Action Plan.
Harvey Norman Commercial brand ambassador Laurie
Daley spoke of our commitment to reconciliation through business.
Brendan Maher from Clontarf Foundation explained how the Harvey Norman Commercial partnership has improved the personal and professional lives of Clontarf students.
Reconciliation Action Plan
You can view our Reconciliation Action Plan by clicking here. This document is a guide on how Harvey Norman Commercial Division NSW & ACT will take tangible steps in improving the lives of our Indigenous Communities and how we aim to achieve reconciliation through business. The last 12 months has cemented our position as the clear leader in our Industry that has taken proactive, tangible and authentic steps to close the gap. We look forward to learning from all our mentors in this space on how we can continue to be a better Corporate Citizen and raise the cultural awareness bar within our business as well as our Clients and Suppliers' businesses.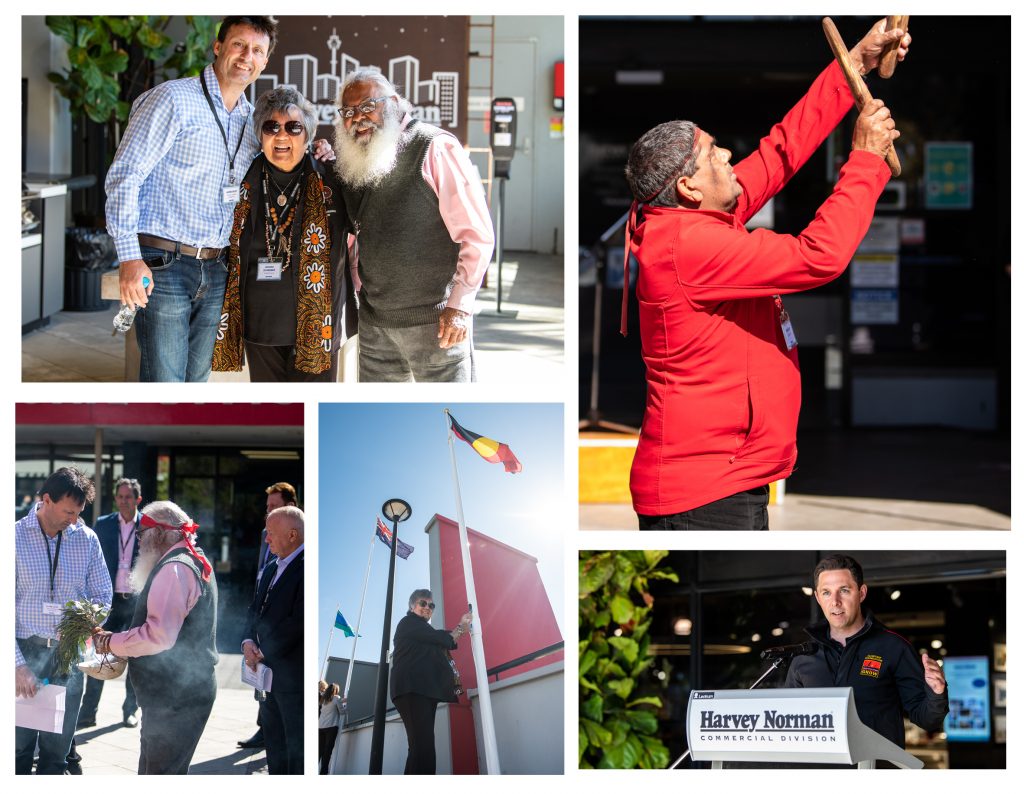 Supply Nation is the Australian leader in supplier diversity. They bring together the biggest national database of Aboriginal and Torres Strait Islander businesses with the procurement teams of Australia's leading organisations to help them engage, create
relationships and do more business.
The Clontarf Foundation exists to improve the education, discipline, life skills, self-esteem and employment prospects of young Aboriginal and Torres Strait Islander men and by doing so equips them to participate more meaningfully in society.
For more images from the event visit here