A Bosch built-in dishwasher is designed to fit in your new or existing kitchen with style and ease. There are various options to choose from, including built-under, semi- or fully integrated. These types of dishwashers are height-adjustable and can be fitted under the benchtop for a flush fit. Fully integrated dishwashers can be concealed entirely behind a door panel to match the design of your kitchen cabinetry.
Washing and drying with equal efficiency, this Bosch 15-Place Setting Dishwasher uses a Super 60 wash programme to provide exceptional performance. Do the washing overnight without being disturbed thanks to the SuperSilence technology, reducing the operational volume to 42 dB. The HygienePlus feature utilises a higher temperature for a brilliantly hygienic clean.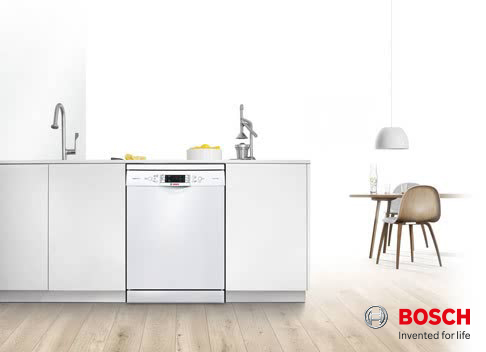 Because you love clean dishes…not washing them.
To make loading more convenient, we have designed our dishwashers with extra freedom of movement for your dishes. With the VarioFlex™ rack system and VarioDrawer™, you decide what fits in your dishwasher.
When you put a cup in the dishwasher, you simply expect it to be cleaned. All Bosch ActiveWater™ dishwashers undergo 200 individual quality control checks before being
released from the factory. ActiveWater™ is a revolutionary dishwashing system that uses every single drop of water to the maximum. Our ActiveWater™ dishwashers are amongst
the most resource-efficient in the world, generating the cleaning power of over 4000 litres from as little as 12.3 litres per wash.
View our range of Bosch dishwashers here